Connect.
Connect with Bazzaz, our race teams, industry, and other enthusiasts.
Login to post your own Bazzaz-related images, feedback, and reviews.

Need support? Use tabs at right. Or call us at 909.597.8300 (M-F 7-4 PT)
RoadRace Factory - Mid-Ohio Recap
Mid-Ohio Sports Car Course, Lexington, OH
If last weekend was a weekend to forget, then this weekend was certainly one to remember; and not because of the awesome racing. This weekend at one of our favorite tracks, Mother Nature decided to throw our already compressed schedule into chaos with a little rain. Mid-Ohio is fantastic track for riders and spectators alike; the only issue is the track surface. It's often sketchy under dry conditions, when it rains however, it's as one of our fans described it, "It's like riding on greased ice." Day one of the two day schedule was literally a wash..
GoPro Daytona SportBike
Coming off a hard weekend at Laguna, Jake and Tomas were looking for some redemption at Mid-Ohio. With the two-day format redemption would have to come quickly, but when one day is lost, redemption would have to be swift as the limited track time wouldn't allow for major changes in bike set-up. Because of the rain on Saturday, there were no practice sessions or qualifying. The only time the riders went on track was for a 20 minute "Inspection" ride. For the races on Sunday the riders would be gridded by their standing in series points following a 10 minute warm-up session with a 10 minute window to make adjustments. After that, it was grid and go!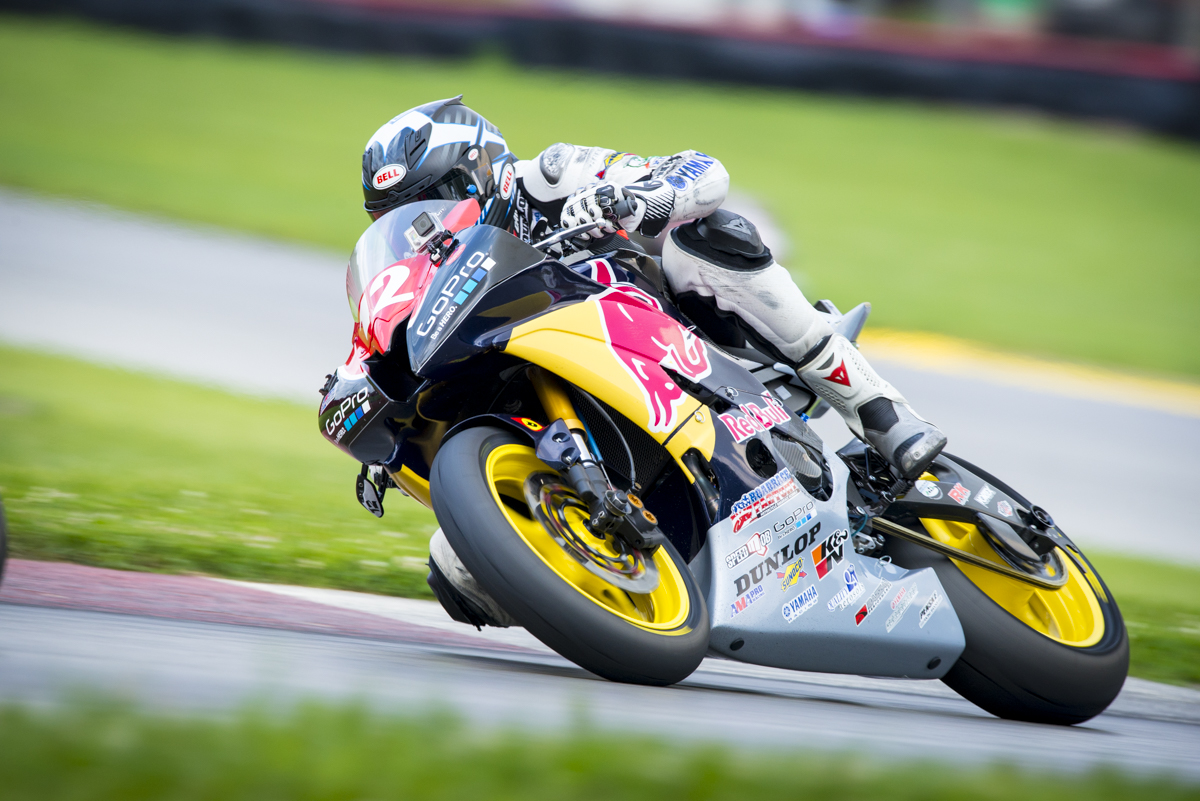 First DSB race was set to go off late morning barring any more inference from the weather. Everyone in the paddock was buzzing about having two races in one day; the riders loved it, the crews were happy to be finally racing and the fans... The fans got every ounce of racing they could in one day. Right on cue, the horns sounded and the first DSB race was set to begin. The riders went straight out of the hot pits and onto the warm-up lap. As soon as the last rider hit his starting position, it was on! The entire field leapt off the line and Race 1 was underway.
Jake Gagne didn't get the cleanest of starts and was back in fourth place by the end of the first lap. Unfortunately for Tomas, his start was deemed early and he was penalized 10 seconds. Undeterred he put his head down and went around the track faster than he had ever gone before. By mid race Tomas was battling some of the fastest riders in the class. Meanwhile at the front of the race, Jake had worked his way through the pack and was running in first followed by fellow Yamaha rider Jake Lewis. With about 3 laps to go Jake Lewis had gained on Gagne and the two of them would begin to pull away from the chasing riders in third and fourth.
As the shortened race was coming to a close, Jake Gagne had a small lead over Lewis and it looked as if Gagne had the victory in hand. Then a minor over run by Gagne on exiting the keyhole section allowed just enough room for Lewis to scoot through. They would pick their way through lapped traffic, which helped Lewis maintain his lead as the pair crossed the start finish. P2 for Jake Gagne and when the dust settled for Tomas he was in P12.
Race 2 was almost a carbon copy of race 1 at the start. Jake Gagne launched off
the line and before turn 6 he had already built up a decent lead. Tomas made a clean start and was hanging in the middle of the second pack, which covered positions 5-12. The stage was being set for another breakaway performance from Gagne when behind him, Dane Westby crashed and fluid from his machine caused Danny Eslick and Jake Zemke to join him in the air fence. Red flag and restart with 10 laps.
This time the restart had a different result. Jake still jumped off and was clearing out however Jason DiSalvo was in tow. Tomas meanwhile was fighting hard with Blake Young for a top 10 position. Up front Jake couldn't shake Jason and as the race was coming to another dramatic close, Jake was pushing hard and riding at the limits of his tires. DiSalvo pulled a little gap with a couple of laps to go and Jake was unable to rein him in. At the line it was to be another P2 for Gagne. Tomas' battle had been decided earlier as his bike began to slide around on him, he crossed the stripe in P9.

Jake Gagne - 1st in Standings
"Weird weekend for sure. Yeah, it was an action packed day and a really quick pace. I'm glad that they decided to do the two races in one day, I actually kinda liked it. It's a bit more of a gamble when you go straight into a race instead of having time to set-up like a normal weekend. We were able to make some small changes between the races and it helped a little bit. I guess when you come away with two Seconds its a good and a bad thing in that we're not satisfied with it. All we want to do is win and I'm happy to be up the podium but we really are expecting the wins. We're going into New Jersey the same as always, get in there and go as fast as we can and win some races. If we do that, then everything will fall into place"
Tomas Puerta - 12th in Standings
"I think it was a good day of racing, I was having fun and the results were ok. We struggled a little bit. I got penalized in the first race, 10 seconds for moving a little on the start. Also we were having some rear tire issues, the bike was sliding a lot. They got it fixed before the second race. On the first start the bike was running ok and I was feeling good. I got another decent start after the red flag but it took me a couple of laps to get by Eslick and I lost contact with the group I was running with. I just put my head down and kept going at my pace. It was a weird weekend, but I had fun today in both races, they were close."
SuperSport
SuperSport was the most unfortunate group this past weekend. They had fewest laps on Saturday as the rain started back up and falling riders brought out a red flag that would not be lifted as the remaining session for the day were cancelled. In total, Felipe was able to make roughly five laps before being directed back into the pits.
Sunday's races were relegated to the last of the classes as the normal order was flipped. Which meant Race 1 was at lunchtime and Race 2 was the last race of the weekend at 3:00 pm. Having made the most of his 20 minute morning warm-up, Felipe and his crew would be ready.
It was another massive field of riders that took to the grid for race one. Again over 40 riders set out to chase down victory. Fortunately for the SuperSport class, three other races had laid down some rubber so the track was nowhere near as slippery as it had been for his DSB counterparts. So as the track went hot and racers began racing, the action was close. Felipe got a good start and in the early stages, was involved in a battle of 7 riders, all jockeying for their places. Running in his typical methodical pace, Felipe continued to fight as he lowered his lap times each lap. As the checkers were being waved, Felipe crossed the line in P24.
Race 2 was being staged as the afternoon crowd was taking up their favorite viewing positions. Another grid and go went off without a hitch and again 43 riders went hurdling towards turn 1. Felipe would settle into a good groove in the early going. With five laps to go, Felipe "woke up" and really started putting down some respectable times; times that would've had him fighting for a top 15. He was enjoying the speed as he set his fastest lap on the second to last lap. In the final analysis, he crossed the line again in P24.
Felipe MacLean
"What a crazy weekend! First race was ok, I started to comfortable again on the bike, but on this track it is really really hard to have some feeling on the tires. I struggled a lot but I started to slowly pick up my pace. By the end of the day was my best time, I think that if we had more track time this weekend it would've been much better. I'm positive going into New Jersey, New Jersey is a track that I really like. I'm having fun and that's the most important thing for me."
The Final Word - Danny Walker
"Well, Mother Nature showed us whose boss! That happens sometimes, I know we race in the rain, but this track isn't the greatest when it's wet so I agree with the AMA's decision to run two races on Sunday. It was actually pretty cool and fun and I think the fans got a great show of non-stop racing.
I've said it before and I'll repeat it, we're here to take victories not just podiums and points. Don't get me wrong, I'm excited about Gagne and his two-second places and Tomas' continuously improving race craft, but we feel we should be dominating. We're going to go back to the shop and figure out what's going on. Road America showed everyone what we've known all along, that Jake can dominate and our bikes are insanely good. We just need to find that missing piece and come back to New Jersey and do what we know we can do."