Connect.
Connect with Bazzaz, our race teams, industry, and other enthusiasts.
Login to post your own Bazzaz-related images, feedback, and reviews.

Need support? Use tabs at right. Or call us at 909.597.8300 (M-F 7-4 PT)
RoadRace Factory - Barber Motorsports Park Weekend Recap
Tucked into the woods of Leeds, Alabama sits a track, a beautiful flowing track that holds surprises for all who attend its events. From the iconic Motorsports Museum to the artwork and sculptures that decorate the venue, it is truly one track a motorsports fan must attend. For the RoadRace Factory crew and riders, it was simply another weekend at the portable office. However there was a slight difference to this weekend than in races past, and no it wasn't the oppressive heat and humidity, it was a new race format for the weekend. Instead of three days of track time, the team only had two days.
GoPro Daytona SportBike

A Tale of Two Riders
Barber is not a track that the RoadRace Factory has historically done great at. It's liked by the riders and crew, but for some reason it's been a difficult track to master. Mastery comes with track time and now track time was going to be limited. No more practice sessions on Friday, it's a jump-start right into qualifying on Saturday morning. Two qualifying sessions and then a short lunch break before Race 1. Jake and Tomas would have to be quick right out of the gate in order to establish any kind of precedent and place the other riders on notice.
Jake did just that. Topping the time sheets for much of qualifying session 1 to finish in provisional pole while Tomas continued his adjustment to the DSB class and ended the session in P13. The times were close all around them and so back to the pits for some adjustments before taking to the track in the second qualifying session. Jake and his crew had made some small adjustments in the hopes of continuing to dominate while Tomas' side searched for the magic set-up that would give him the maximum from his R6.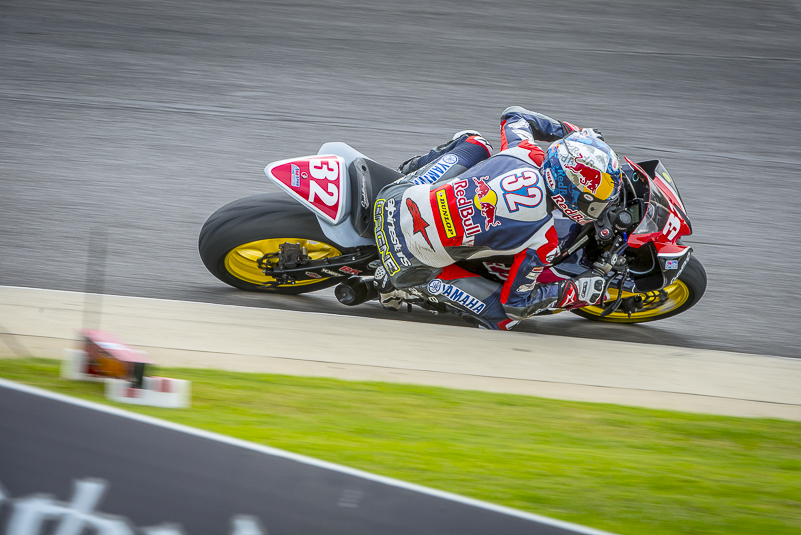 As the horn blew and the track went hot, Jake and Tomas both made great first flying laps. However, as the session wore on, the small changes on Jake's bike began to manifest in larger ways, as he was unable to repeat the dominant performance and would ultimately qualify in the third grid position. For Tomas, it was still a struggle to find the balance. His times increased, as did the other riders' times. When the session ended he found himself on the fourth row of the starting race grid.
After a brief lunch, the GoPro Daytona Sportbike riders were called to take the grid for their first race of the weekend. The riders and their crews doing all they can to help keep the heat and humidity at bay for as long as possible. Grid was cleared, Visors came down, revs went up and the DSB pack launched into turn 1 in a tight formation. Yamaha rider Garrett Gerloff had taken the hole-shot with Jake Gagne, Jake Lewis, and others in tow. By the end of lap 3 it was a hotly contested lead group that was dicing it up as if it was a "Dash for Cash" race. Unfortunately an incident early in the race involving the three main front-runners that took out Garrett and Jake.
Back in the mid-pack, Tomas was fighting with some of the most season vets in the class. By mid race he worked his way clear into P10 where he would battle with Kyle Wyman until the end of the race. It was a great battle for Tomas even though he and the team hoped for better, it was a hard fought race with a solid outcome that improved his standings in the championship.
Sunday was a normal Sunday in terms of racing schedule. On track activities began at a more normal hour and there was no compressed time format. An early morning practice session for every class followed by races in the afternoon. During those morning practice sessions, Jake and Tomas used that time as if it was another qualifying session. Each had something to prove. For Jake, it was to show that he had the pace to win on Saturday and that his crew can build and rebuild the best bikes on the grid, for Tomas it was to show that he continues to learn from each session and his times were improving lap by lap.
As the riders took their places on the grid for Race 2, the paddock and fans were all anticipating another barnburner. Unfortunately, fellow Yamaha rider, Garrett Gerloff would not partake in this battle as he suffered a broken arm during the incident in race one. That still left the battle to be decided by anyone of the top six riders on the grid. As the flag was dropped, the riders once again charged downhill towards turn one and the fight was on. This time it seemed that the entire class was one big mass for the first three or four laps. Jake was in an intense battle with Jake Lewis and Jason DiSalvo, each rider taking their turn at the lead until Jake Gagne put his head down and began to slowly pull a gap. Tomas was heavily engaged in his own battle with Jake Zemke and others. The positions at stake were P5 through P12, so the battle raged.
At the front, Gagne's lead was shrinking with enough time to be concerned. Jake Lewis and Dane Westby were coming up quick. On the last lap Jake was making a charge to retake the lead when a small misstep on the chicane had him run a little wide and was passed by two riders. A hard run back through the final section had him back into a podium spot where he would cross the line in P3. Tomas' battle group formation had separated out into a single file formation that would see him cross the strips in P10.
Great results to be sure, but not the results that anyone wanted. In the DSB world, the team has tasted victory and they all firmly believe that winning is the only outcome. So with that in mind, they will now move on and prepare to dominate the next round at Mazda Laguna Seca Raceway, a track that has is proven success for the team.

Jake Gagne - 1st in Standings
"Yeah, this weekend we came in with pretty high expectations coming off the double at Road America. I like this track a lot, last year I finished in second in both races so I felt pretty confident we could win here. First qualifying went great we were at the top of the charts. We made some changes before Q2 and that seemed to take us in the wrong direction but we were still on the front row and I knew I could win it. Race one was going well, had a pretty good battle going on and then it got all sketchy when Jake (Lewis) got a little sideways going into turn 13 and Garrett tried to make a avoiding move and he ended up hitting Jake in the rear tire and went down. I had no-where to go and got collected up in the wreck. I mean I'm pretty bummed, that's racing and it happens. The crew worked their butts off and rebuilt my bike overnight and had it up and running strong for the morning practice.
Race 2 was going as great. I was able to push when I wanted to and after a few laps I was building a little gap. I started having a little issue towards the end and the gap was closing. The last few laps had me battling again with Jake (Lewis) and Dane Westby. I felt I could make the charge for the lead but a I made a small mistake in the chicane and lost two positions. I finished 3rd and took some points but I can't say I'm too happy. At this point we're only going to be happy with wins so it's onto Laguna and another chance to win."
Tomas Puerta - 10th in Standings
"The weekend for me wasn't perfect but it was good. We're still working on finding the perfect set-up and I'm adjusting the class. But after Road America I felt that I could run up towards the front this weekend. After qualifying though, it was clear I was off the pace and we really went to work on the bike. We made some changes and were ready for race one. I got into a pretty good battle but couldn't really make any moves forward and got P10. Okay, so we worked on the bike some more before race 2.
I felt good on Sunday and was excited to see if the changes worked on the bike. Again, I got a good start but was running in a pack fighting for a top 10 position. When it was over, I got another P10. So now, I have to change my mindset. I'm disappointed when I'm not wining so I don't know if I have to change my style, my mind or what but I've learned to be ok with this season as a learning year. I mean I'm top 10 in my first year in this class, so I'm going to be happy and think about what else needs to change because I know the bike is strong. I'll be ready for Laguna and I like that track a lot."
AMA Pro SuperSport
For the team's newest rider, Felipe MacLean, Barber is another completely unknown track. Having run a handful of races last season with the team, Barber was missing from his repartee and there would have to be some educational time built into the schedule for him. However, this isn't the old schedule where you can "learn" the track on a Friday and go "Hammer Down" on Saturday and Sunday. No Sir, not this weekend. Felipe would be thrown right into a qualifying battle with 40 other riders on a track that he had only seen on a map moments before.
Felipe is the consummate professional, he had his strategy for the weekend and he followed it. Just like in Road America and Daytona, each lap would be faster than the previous. If only by hundreds of a second, so be it! That's what it would take to learn and come up to speed. So, following his strategy, Felipe clicked off laps that consistently got faster. By the end of qualifying Felipe would be in P36 on the starting grid.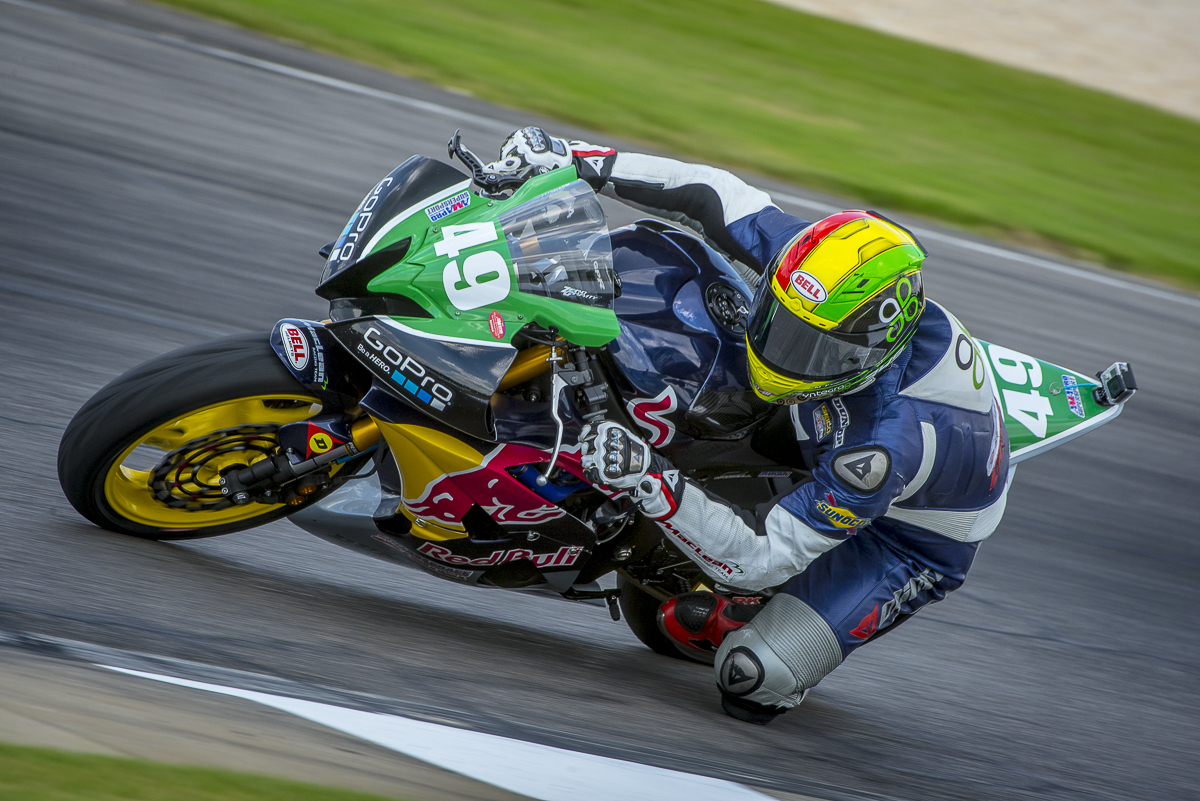 Race one went off like a thundering herd as the group moved around the flowing track. Felipe was steadily moving up through the field and making progress lap after lap. When the he crossed the line in race 1 he found himself in P26. For race 2, he was more confident with the track and was eager to start. Again the field was turned loose and the massive groups began their assaults. Felipe once again, showed incredible determination and aggression by passing other riders using some impressive maneuvers. As the laps wore on, he would find himself running in P25 and staying there until the checkers were waved.
Felipe Maclean - 24th in Standings
"Yeah it was a pretty good weekend. This was our fist time here and I didn't know the track. We started like 10 seconds behind the pace and ended up like 3 seconds behind the pace which was really good progress. It's our first year, our goal is top 15 and I believe that is doable especially with tracks I know.
I want to thank the team for giving my this great opportunity, my family for always supporting me, my sponsors they are behind me 100% all the time, and to my father who comes to every race no matter where it is."
The Final Word - Danny Walker
"It was supposed to be a shorter weekend, but it seemed like it was a longer weekend. The new schedule has everyone trying to make adjustment and it just feels like there was just as much going on as before. The energy level to do the two days feels like it was more than doing the three day events.
Overall, it's hard to say it was a bad weekend. I mean Tomas got two top tens, and Jake getting on the podium. You know the crash on Saturday is probably what put the damper on the weekend. But Barber just is one of those tracks that we don't seem to gel with 100%. Last year Jake got two second places but crashed a few times, happened again this weekend. Tomas went well in SuperSport last year but struggled this weekend.
You know, Felipe did awesome this weekend. He showed up at the track having never seen it before and just put his head down and rode hard. He was aggressive and continued to drop his times. It's all we can ask for and he's nailing it.
So yeah, coming out this weekend, I can say we're happy that we still have the points lead if that's something we say we're concerned with but we're looking forward to Laguna."